Away goals see Logroño through
Thanks to a goal with only five seconds left of the second leg against Kadetten Schaffhausen, BM Logroño La Rioja booked their ticket to the group phase of the Men's EHF Cup.
Logroño had won the first leg at home 26:22, which mean that their 28:24 defeat in the return game in Switzerland was just enough to proceed through more away goals than their opponents.
During the match in the BBC Arena in Schaffhausen, not much indicated Spanish success, though.
Already in the first half, Kadetten got eight goals ahead, and after leading 17:10 at half-time, the home team got eight goals up again early in the second half.
With less than seven minutes left, Kadetten were still leading by seven goals, 27:20, but through an impressive finish, the Spanish visitors managed to reduce the deficit. With the crucial goal with five seconds left, which reduced the final result to 28:24, Logroño could celebrate.
In fact, Spain got all three surviving teams through to the group phase. Fraikin BM. Granollers had lost 25:24 at home to RK Gorenje Velenje, but that did not bother them in the return match in Slovenia.
Granollers won as clearly as 33:24, leaving no doubt about their group phase berth.
Liberbank Cuenca made it three out of three for Spain. Cuenca are debutants in Europe this season, but still, their group phase berth was to be expected after their 34:29 win in Belgium against Achilles Bocholt in the first leg of the third qualification round.
On home ground this weekend, then, Cuenca finished the job with a considerably clearer win, as the scoreboard showed 37:25 for Cuenca at the final buzzer.
Danish delight
A country that only got two out of three teams on to the group phase was Denmark.
GOG were expected to proceed after winning 32:27 in Serbia against Vojvodina, and the Danish team finished the job in style with a 38:25 win at home in the return match.
Danish Cup winners TTH Holstebro drew 25:25 when they met PAUC in southern France, and Holstebro made use of the home right in the second leg by winning 28:25.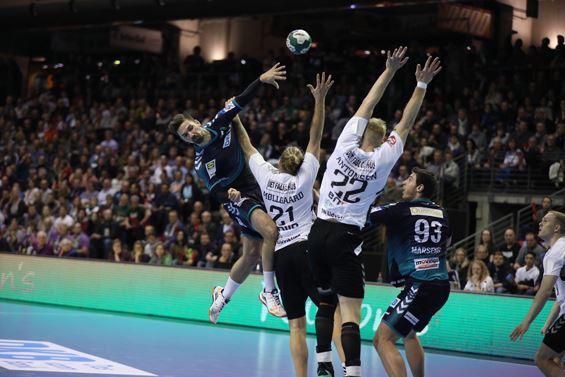 The only Danish team who did not make it were Aalborg Handball.
Having won the first leg against Füchse Berlin 31:29, Aalborg were leading by six goals in the Max-Schmeling-Halle. The defending EHF Cup winners managed to come back and win 28:23 in front of 7,403 spectators, a new record attendance at a Men's EHF Cup qualification match.
Three out of four for Germany
With their impressive comeback, Füchse made sure that three out of four German teams went on to the group phase. THW Kiel were almost there already after winning 34:23 at home against Drammens HK, but this did not make them relax in the second leg in Norway and they won 36:18.
TSV Hannover-Burgdorf were five up before the away meeting with SL Benfica after winning 41:36 at home. A 33:33 draw in Lisbon was therefore enough for Hannover.
SC Magdeburg were the only team for Germany who did not make the cut.
Magdeburg were leading 26:23 from their home game against Futebol Clube do Porto, but their visit to Portugal's second-largest city was no success to coach Bennet Wiegert's men.
Porto were leading by 11 goals along the way and ended by winning by seven, 34:27.
Author: Peter Bruun/jh