Golub hopes to guide Kuban into semi-finals
Kuban were the only Russian side to reach the Women's EHF Cup Group Phase this season. Now they are taking the next step: meeting Team Esbjerg in the quarter-final.
The first leg takes place in Krasnodar on Sunday (at 14:00 CET, live on ehfTV.com), while the second leg is set to take place in Esbjerg a week later.
One of Kuban's main weapons is Diana Golub. The 26-year-old right wing is currently the second best scorer of the competition with 43 goals, seven short of Herning-Ikast's Helene Fauske.
"Obviously our goal is to reach the semi-final, and at home, we want to beat Esbjerg and to score as many goals as possible. Every goal can be important," Golub says.
"I didn't expect to score so much in the group matches, because wing players are rarely top scorers. Maybe I'm so high in the list because I throw penalty shots well. Anyway, I'm pleased with my impact, and I hope to continue like that."
Complacency is Kuban's problem
The road to the quarter-final was anything but easy for the Krasnodar-based team. In Qualification Round 3, they surprisingly lost 27:26 at home against Mecalia Atletico Guardes before a hard-fought away 33:31 away win saw them through.
In Group C with Viborg, Besancon and Larvik, Kuban started with two wins, but then suffered three straight defeats and put their chances of progressing in question. A 23:23 draw at Larvik ultimately provided them with a quarter-final ticket.
"Actually we often make life difficult for ourselves, both in the Russian league and the EHF Cup," Golub says. "I think our problem is complacency – we relax our approach and start making childish mistakes, losing too many balls and playing without discipline. We can lead by eight goals during the match, but squander the advantage by the final buzzer."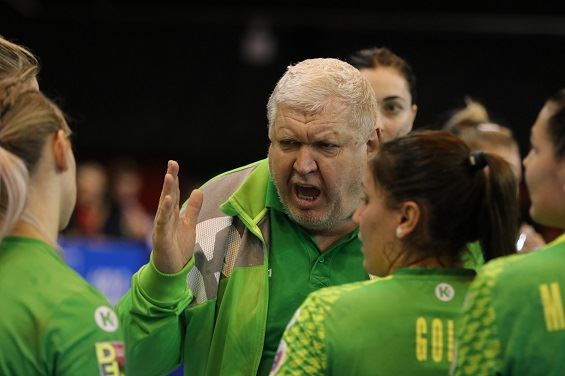 Kuban have also been hit by off-court worries. In early February, head coach Evgenii Trefilov was hospitalized and underwent heart surgery, leaving him still unable to work with the team. In his absence, assistant coach Denis Saifulin has temporarily taken over.
"Of course we miss Trefilov. But this is an extra motivation for the team," Golub says. "We fight for him, because we don't want to upset the coach and try to give him positive emotions, so that he can recover faster."
Born in Krasnodar, the right wing has been playing for Kuban during her entire career, so Trefilov played a big role in her development.
"Obviously he is a good coach. At first I couldn't get used to his emotional style, and I got upset after his yelling. But with the years, I started to take it easier," she says. "Trefilov has definitely helped me to become a better player."
Full-blooded Armenian hopes to play for Russia
However, Trefilov has never called up Golub for the Russia national team, where he is also the head coach. The right wing hopes that the situation will change in the near future.
"I was frustrated when I wasn't included in the team roster for the EHF EURO 2018, but there is a strong competition with two Rostov players, Iuliia Managarova and Marina Sudakova," Golub says. "Of course I want to show my best qualities in the national team, and I think I could play there."
Golub is right-handed, untypical for a right wing. "As a kid, I started on the left wing, but then they moved me to the right, and I adjusted well," she says. "Now I wouldn't even like to play on the left, I wouldn't feel comfortable both in attack and defence."
Formerly known under her maiden name Zakaryan, she has been playing under her current last name since marrying former SKIF Krasnodar player Aleksei Golub in 2017. Her former name sounds Armenian - not without reason.
"Indeed, I am a full-blooded Armenian," she says. "Even if I've lived my entire life in Russia, have never been to Armenia and don't really speak the language."
Author: Sergey Nikolaev / ew