Emma Friis is "simply good at keeping cool"
Scoring no less than 10 goals, Emma Friis played a crucial part as Herning-Ikast Handbold defeated HC Podravka Vegeta 34:26 at home last Friday in the first leg their quarter-final tie in the Women's EHF Cup.
"We watched plenty of video from Podravka before the match and noticed that they practice a typical Balkan defence, which gave good working conditions for the wings," says Friis, who raised her total for the European season to 32 goals. "Therefore, I was prepared to get a lot of passes, and I was happy to be able to make good use of them."
Played in some of the biggest arenas in Europe
Still only 19, Friis was not particularly nervous because of her important role in the match.
"I think I am pretty good at staying cool, when I get the chance. I do not think particularly much about the goalkeeper; I just focus on making use of the opportunity," she says. "Maybe my coolness is partly due to the fact that I have already played in some of the biggest arenas in Europe."
In 2016, at the age of 17, she made her debut in the league team of FC Midtjylland, as Herning-Ikast was named back then. Two quarter-final ties against HC Vardar in the Women's EHF Champions League have been among her greatest experiences.
"Another reason for the success against Podravka was probably the fact that we felt very well prepared," Friis says. "We were prepared for a physically tough match. We realised that in the quarter-final of the EHF Cup we needed to come with everything we got, and that is what we did."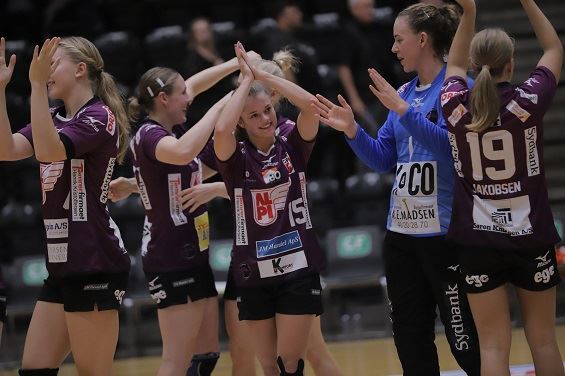 While she spent her senior career so far at Herning-Ikast, several European top clubs have already taken notice of the 19-year-old wing.
"My own ambition is to make it into the senior national team, and on a longer term, I would like to go abroad, but I am in no hurry about a foreign adventure right now," Friis says. "For the moment, I simply focus on doing as well as possible with my current club team, and then, we will have to see what that brings."
Friis has no dream club to play for in the future, but admits that the French of Hungarian league would appeal to her.
"Maybe Metz or Györ or CSM Bucuresti could interest me. I think I could adjust well to the mentality in Eastern Europe," she says.
Aiming for another win
First of all, however, she and her teammates at Herning-Ikast have to take the second step towards the Women's EHF Cup Semi-finals. They travel to Croatia to defend their eight-goal advantage on Sunday (at 17:00 CET, live on ehfTV.com)
"We are aiming for another win, however. Going there just to defend our lead would be dangerous," Friis says. "In games like that, you should never think of just defending your lead. If you fall some goals behind, the nervousness sets in very easily. Therefore, our goal is to win in Croatia too, and I think our chances are good."
Author: Peter Bruun / ew