Defending champions in the top pot before the group phase draw
Following the last weekend's Qualification Round 3 matches in the Men's EHF Cup all is set for the group phase draw of the seventh edition since its merging with the Cup Winners' Cup.

The draw will take place at the EHF headquarters in Vienna on Thursday 29 November at 11:00 hrs local time and will be streamed live on ehfTV's YouTube channel and EHF's facebook page. In addition the draw will be covered with a live ticker and reports on europeancup.eurohandball.com as well as live tweets on @ehf.

According to the regulations the teams from the same country cannot play in the same group. There will be ten countries represented by their teams in the group phase with Germany and Spain leading with three teams each followed by Denmark and Hungary with two clubs each.

The defending champions Füchse Berlin are seeded in Pot 1 together with their bundesliga rivals TSV Hannover-Burgdorf, Portugal's FC Porto Sofarma, who eliminated another German team SC Magdeburg, and Spain's Fraikin BM Granollers, who are part of the group phase for the record fifth time exactly as Füchse.
The three-time EHF Champions League winners THW Kiel will be drawn from Pot 3 together with last season's EHF Cup runners-up Saint-Raphael Var Handball from France.
The first round of the group phase is scheduled for 9/10 February and the last round will take place on 30/31 March.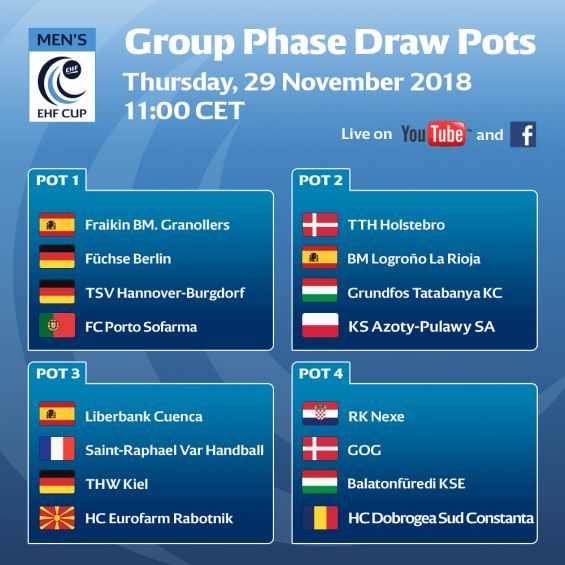 Men's EHF Cup 2018/19 Group Phase draw:

POT 1
Fraikin BM. Granollers (ESP)
Füchse Berlin (GER)
TSV Hannover-Burgdorf (GER)
FC Porto Sofarma (POR)

POT2
TTH Holstebro (DEN)
BM Logroño La Rioja (ESP)
Grundfos Tatabanya KC (HUN)
KS Azoty-Pulawy SA (POL)

POT 3
Liberbank Cuenca (ESP)
Saint-Raphael Var Handball (FRA)
THW Kiel (GER)
HC Eurofarm Rabotnik (MKD)

POT4
RK Nexe (CRO)
GOG (DEN)
Balatonfüredi KSE (HUN)
HC Dobrogea Sud Constanta (ROU)
DRAW PROCEDURE

STEP 1
Teams from Pot 1 are drawn to Row 1 in Groups A to D
=>
STEP 2
In Pot 2, BM Logrono La Rioja are drawn to a possible group in Row 2 avoiding a group with Fraikin BM Granollers
=>
STEP 3
Other teams from Pot 2 are drawn to Row 2 in the remaining groups
=>
STEP 4
In Pot 3, THW Kiel and and Liberbank Cuenca are drawn to possible groups in Row 3 avoiding a group with another team from their particular country.
=>
STEP 5
Other teams from Pot 3 are drawn to Row 3 in the remaining groups
=>
Step 6
In Pot 4, GOG and Balatonfüredi KSE are drawn to possible groups in Row 4 avoiding a group with another team from their particular country
=>
STEP 7
Other teams from Pot 4 are drawn to Row 2 in the remaining groups
Author: EHF / br