Kiel in group with Granollers, Azoty-Pulawy and GOG
The defending EHF Cup champions Füchse Berlin will carry on in their title defence in Group A together with BM Logroño La Rioja, Saint-Raphael Var Handball and Balatonfüredi KSE after the group phase draw has divided all 16 teams into four groups.
The EHF Chief Sports Officer Markus Glaser together with four club representatives (Stefan Güter/Füchse, Josep Blanchart/Fraikin BM Granollers, Pierre Luhern/Saint-Raphael Var Handball and Armando Leitao/FC Porto Sofarma) conducted the draw in the EHF headquarters in Vienna.
"This is definitely not an easy group, not only due to the facts that last seasons' finalists meet again. It will be the matches seven and eight within only two years against Saint-Raphael. And maybe we do it like in the last two years, marching on to the EHF Cup Finals. La Rioja are strong too, they beat Schaffhausen in the qualification. We are extremely happy to be here, as we were close to elimination against Aalborg being virtually down by eight goals after 80 of 120 minutes," Stefan Güter, Füchse Berlin representative said.

Pierre Luhern, Saint-Raphael Var Handball added: "We know now which hotel to book in Berlin, we know everything there and we will have great duels again, which we are looking forward to."
The three-time Champions League winners THW Kiel, who have returned to the EHF Cup after 15 years, will play in Group D together with Granollers, KS Azoty-Pulawy SA and GOG, while the third German team TSV Hannover-Burgdorf will meet Grundfos Tatabanya KC, HC Eurofarm Rabotnik and RK Nexe in Group B. FC Porto Sofarma were pitted in Group C with TTH Holstebro, Liberbank Cuenca and HC Dobrogea Sud Constanta.
"It is our great goal to make it to the EHF Cup Finals, but first we have to take the challenges of an interesting group, which is not easy to pass. All three opponents come from strong leagues, expect Pulawy I know the teams quite well. There are no easy games ahead, but our fans at Kiel can hope for great handball. Mainly GOG and Granollers will be our contenders for proceeding to the next round, I guess," Viktor Szilagyi, the sports director of THW Kiel commented.
The group phase will start on 9/10 February and after six rounds the quarter-finals will follow in April. The final tournament EHF Cup Finals will take place between 17-19 May and the hosts will be announced by the EHF Executive Committee on 15 December in Paris.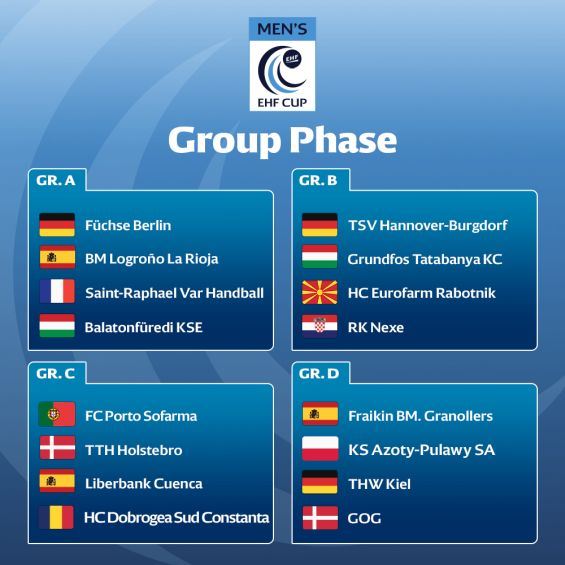 Author: EHF / br