Craiova seek happy end to Cinderella story
For decades, football has been a matter of life and death in Craiova. Their loyal fans were rewarded with huge successes in the Communist era in Romania as tales from their epic wins were passed on from generation to generation.

After years of struggle for sports in Craiova, new investments and the construction of a new arena and a new stadium in the span of five years have brought back life into an underwhelmed fan base that is now buzzing to see their favourites.

While football remains king in the Romanian city, attention has also been growing for handball as SCM have advanced to their first European final.

Craiova lost to Vipers Kristiansand 26:22 in the first leg of the Women's EHF Cup Final last weekend (full match on demand on ehfTV.com). They will try to catch up in the decisive second leg at home, on Friday, 11 May at 19:30 hrs (live on ehfTV.com).

"We cannot believe our eyes what we are witnessing."

Founded in 2006, SCM Craiova have been a middle-of-the-road team for most of their existence. Two years ago, Bogdan Burcea made his comeback as the coach of the team, which he previously represented between 2011 and 2013.

Building a competitive side was not easy, but Craiova had patience and boosted their ranks with seasoned players like Valentina Ardean Elisei, Cristina Florianu or Zeljka Nikolic.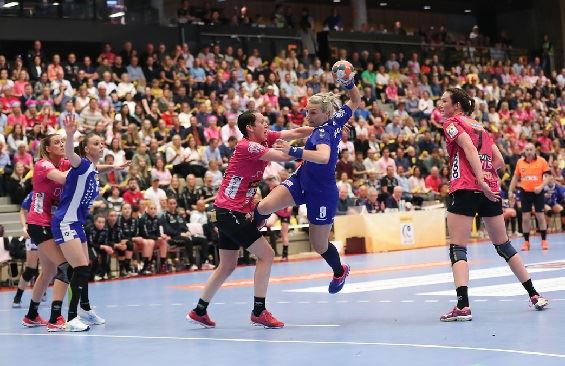 Yet nobody could have expected Craiova to rise to the occasion in only their second European season ever.

"It is an exciting challenge for us and a dream came true to play in the final of the Women's EHF Cup. We cannot believe our eyes what we are witnessing," Craiova coach Burcea says. "When we played in the group phase, I said that we are the Cinderella story of this competition. Now Cinderella wants to be a princess."

"Four goals are nothing in handball"

The Cinderella analogy might be a great one, and more so, a true one. On the road to the showdown with Vipers, Craiova won against seasoned teams like Brest Bretagne, Handball Club Lada or Kuban.

Now, they dream about their first European title.

"The tie against Vipers is very difficult. They are a team who played in the Women's EHF Champions League, with very experienced players, like the Lunde sisters or Linn Sulland. They know how to defend a result and it will be a tough game," Burcea says.

In the first leg last week in Kristiansand, Craiova did the best they could but ultimately lost by a four-goal margin.

"I think we are better than that," says Craiova left back Cristina Florianu, runner-up in the top scorers' list with 65 goals, three less than Vipers' right back Sulland. "We need to be more careful in attack and not miss this much. Four goals are nothing in handball and maybe we can turn this around in front of our fans."

Huge lines outside the arena

It may be a testy statement from Florianu, yet Craiova have their plan in mind. Start good, keep the rhythm flowing and rely on their raucous fans.

The Craiova Arena can accommodate 4,000 fans, but there were 20,000 requests for tickets. Lines were formed in front of the ticket selling points from 2:00 hrs in the morning with four days to go - like in the good old days when their old football heroes were taking on the best teams in Europe.

The pressure is on Cinderella to finally become a princess. Will the transformation be completed on Friday evening?

"This is no ordinary arena. Pressure? It is on them," playmaker Andreea Pricopi says.

No Romanian team have won a European competition since Oltchim Ramnicu Valcea took the Women's Cup Winners' Cup in 2006 by storm. There are little similarities between the two sides, apart from left wing Valentina Elisei and the fact that both sides are from Oltenia.

This weekend, Romanian handball has even two chances to end the 12-year European trophy drought. While Craiova could win the EHF Cup on Friday, CSM Bucuresti aim for a triumph at the Women's EHF FINAL4 in Budapest.

Who will rise to the occasion?
Author: Adrian Costeiu / ew