Craiova and Viborg claim victories
SCM Craiova made an important step towards the Women's EHF Cup final, by winning in Kastamonu 23:22 in the first leg game.
In the other semi-final, Viborg defeated Vipers by three goals (34:31) at home, which leaves it open before the return match.

• Kastamonu suffered their first home defeat of their campaign
• Viborg claimed fifth victory in as many games against Norwegian teams
• Viborg's Ann Grete Norgaard is now the competition's top scorer with 59 goals
• Both second leg matches will be played on 14 April
Women's EHF Cup semi-final, first leg
Kastamonu Belediyesi GSK (TUR) vs SCM Craiova (ROM) 22:23 (15:11)
Prior to the match, Craiova's head coach Bordan Burcea had stressed that nothing would be certain after the game in Turkey, as the second leg match in Romania will play a decisive role in any case.
However, after a one-goal win in Kastamonu, it looks like Burcea's team have an excellent chance to reach the final.
The Turkish side, who had been undefeated at home during the current European season, was dominant during the first half, and their lead at the break was pretty solid as they moved the score 11:9 to 15:11.
However, Craiova know how to play away from home, which they had shown in the quarter-final against Lada.
Led by Ana Maria Ticu, who finished the game with six goals, the visitors had a great 5:0 spell early in the second half to draw level at 16:16.
Later Craiova even set up a three-goal lead (22:19, 23:20), and although Kastamonu reduced the deficit to the minimum, the Turkish team will have a hard time next week in Romania.

Viborg HK (DEN) vs Vipers Kristiansand (NOR) 34:31 (18:16)
This season, Viborg have a perfect record against the Norwegian teams.
They beat Byasen twice in the group phase, and later won both quarter-final legs against Larvik.
Now the Danish side claimed their fifth win in the Scandinavian derbies, defeating Vipers at home. However, a three-goal gap leaves it all open before the second leg.
It was a very tight game for most of the first half, and the teams were level at 16:16 a few minutes before the break before Viborg boosted their morale by scoring two goals.
The home side gained momentum after the break and started to rapidly increase their advantage, which reached 28:22 at some point.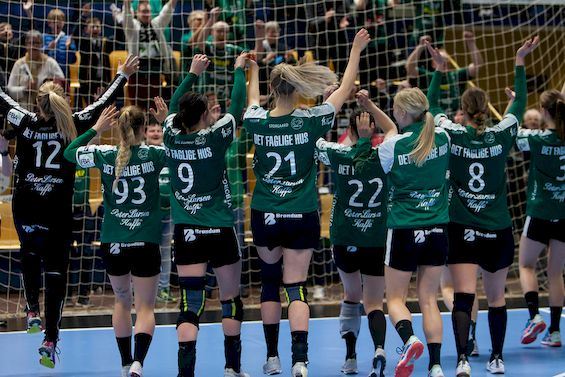 Kristina Jorgensen played a very good game, scoring 11 times, while Ann Grete Norgaard's eight goals helped her to take the lead in the competition's scoring chart.
Now she has 59 goals, which is one more than Daria Dmitrieva, whose Lada have already been eliminated.
Yet Vipers did not give up, and while they were defeated in Denmark, they will certainly have a chance for a revenge on home court, and this uncertainty will only add excitement to the return match.
Post-match reactions:
Allan Heine, head coach Viborg HK: "We are really good with the ball today.
"We played until we had a good chances and were effective with the ball.
"It is hard to ask for more. Of course, I wish we had been even better in defense, but Vipers put a lot of pressure on us throughout the game and if we look carefully there should be a few goals to strike off had we been stronger in defense."
Finn Kenneth Gabrielsen, head coach Vipers Kristiansand:
"We met a strong and aggressive Viborg team today and we did not get a hold of them.
"They were very strong in attack today and scored well.
"I think we have a good chance of catching up. We did not play a good game today, and defensively we were playing at a lower level than usual.
"Viborg were a good team today, and we have to prepare for the next game. Kristina Jørgensen (Viborg HK player) was outstanding today and we must do something to stop her playing so well."
Author: Sergey Nikolaev / bc