Three individual awards for three different clubs
Before Füchse Berlin raised the trophy as newly crowned EHF Cup winners, three individual awards were presented at the Ottostadt EHF Cup Finals in Magdeburg on Sunday.

Romanian Mihai Popescu was awarded best goalkeeper of the event, after he was the key for Saint-Raphael to make it to the final as they beat hosts SC Magdeburg 28:27 on Saturday. In the final, Popescu was brilliant again – particularly in the first half.

Centre back Marko Bezjak, of third-ranked tournament hosts SC Magdeburg, was awarded MVP of the Ottostadt Magdeburg EHF Cup Finals.

"We were all surprised by this award – and we are pleased that Marko's performance this weekend was recognised in this way," said SCM coach Bennet Wiegert, as Bezjak had already disappeared from the arena. The reason was simple: His daughter, Leni, was celebrating her sixth birthday – and Bezjak was bringing a surprising present to his family.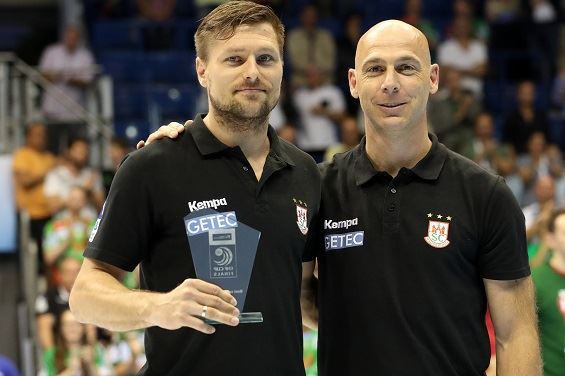 With nine goals in the semi-final against Göppingen (27:24) and six strikes in the final against Saint-Raphael (28:25), Hans Lindberg repeated his top scorer feat from 2016/17, with a total of 82 goals. In the final ranking, he was just one ahead of Saint-Raphael's left wing Raphael Caucheteux, who scored a total of 19 goals in the two matches in Magdeburg.

After losing two EHF Cup Finals – with Hamburg against Berlin in 2015 and with Berlin against Göppingen in 2017 – it was the first time Lindberg lifted the EHF Cup. The Danish right wing, who was top scorer of the Champions League 2012/13 season, was rightly proud:

"My top scorer trophy is a reward for the team. Without the assists of my teammates I could not have become top scorer. But to be honest, the most important trophy is the one for our team, the EHF Cup trophy. I am thankful that we made it after a really hard season with many injuries."
Author: Björn Pazen / cg