Bietigheim join Rostov in Women's EHF Cup Final
Despite arriving at Arena Næstved with a solid 11-goal advantage after their home win last weekend SG BBM Bietigheim looked shaky against NFH-Nykobing Falster Handboldclub during a large part of this decider, yet ultimately weathered the storm and went through to the final despite a 32:28 loss in Denmark.
Bietigheim reached the Women's EHF Cup Final in their first international season
NFH scored 26 goals by the 37th minute, going up by 10 at one point, but could only manage just six goals after that
Mette Gravholt and Kristina Kristiansen scored seven goals for NFH, while the tournament's top scorer Nathalie Hagman netted six times
Bietigheim's top scorer was Maura Visser, also with seven goals
SEMI-FINAL, SECOND LEG

NFH-Nykobing Falster Handboldclub (DEN) vs SG BBM Bietigheim (GER) 32:28 (20:13)
SG BBM Bietigheim win 66:59 on aggregate

Following a convincing home victory last Sunday (9 April), SG BBM Bietigheim seemed to have one foot in the final while their opponents NFH did not have any illusions about their uphill challenge as their Head Coach Niels Agesen had claimed before the match that his team were "already out".

Setting the pace
Yet deep down everyone involved with the side from Denmark had hoped to create a miracle in front of their home crowd and Bietigheim felt it too as NFH changed the score from 4:4 to 8:4 in the 11th minute.

The SG BBM coach Martin Albertsen called for a team time out, which helped for a while, but then Nykobing started to push again, showing fast and dynamic handball combined with ruthless finishing close in and from nine metres.

Their goalkeeper Mette Sahlholdt was superb, and her sides' attack looked as clinical as it was in the group phase where NFH had had the best scoring record among all 16 participants.

Half-time happiness for home side
A minute from half-time, the hosts were up by eight goals (20:12), and even if Bietigheim reduced it to 20:13, the German team had a reason to worry about.

Seven minutes into the second half, NFH reached a double-digit lead at 26:16 and found themselves just one goal short of pulling level on aggregate. Yet in that critical situation, the visitors managed to stabilise the game as their hosts could not go the extra step.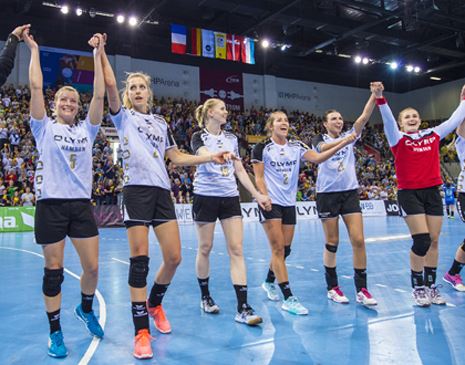 German effectiveness, Danish nervousness
The German side significantly improved their defence as the home side seemed to run out of energy and looked much less focused, but not time out came for them to steady themselves.

As a result, NFH scored just six goals in 23 remaining minutes but even with nine minutes left of the match, Bietigheim still looked in danger as they were 29:20 down, but the German team scored three goals in a row and managed to kill of their opponents in the closing stages to win the tie, despite losing the match itself.

In the final, Bietigheim will face Rostov-Don. The two teams have already met in the competition this season, in the group phase, with the Russian side winning both games, 23:20 and 34:24.
Author: Sergey Nikolaev/amc