Flying Lindberg steers Berlin to final
For the second time in the history of EHF Cup Finals since 2012, two German teams fight for the trophy in the final. After hosts and defending champions FRISCH AUF! Göppingen had beaten SC Magdeburg in the first semi of the LIQUI MOLY EHF Cup Finals on Saturday, Füchse Berlin did the same by beating the only non-German team, French side Saint-Raphael Var Handball by the biggest gap ever at EHF Cup Finals - 35:24 (17:10).

• Füchse Berlin have made it to their second EHF Cup Final after 2015 at home
• On Sunday (17:00 CET), the 2015 and 2016 EHF Cup Champions will lock horns in the final
• History continues that no French team ever has ever won the EHF Cup in the old or current format
• For the 18th time in history (14 times in the old format and fourth in the new format) a German team will win the EHF Cup on Sunday
• Top scorer in the second semi-final was Berlin's right wing Hans Lindberg with eleven goals
SEMI-FINAL: Saint-Raphael Var Handball (FRA) vs Füchse Berlin 24:35 (10:17)
An extra-ordinary performance by goalkeeper Silvio Heinevetter (14 saves), eleven goals from Hans Lindberg and a dominant way of playing throughout the whole 60 minutes were the ingredients for this clear semi-final win of the 2015 EHF Cup winners.
Hans Lindberg is now the first ever player to score more than ten goals in any EHF Cup Finals match since 2012.
The 35:24 was also the biggest gap ever in any EHF Cup Finals match, the old record was six goals.
And Berlin almost broke the high scoring record still held by Montpellier, when the French outfit clocked up 36 goals in their 36:32 win in the EHF Cup 2014 semi-final.
In contrast to their (both victorious) quarter-final matches against Melsungen, Saint-Raphael were fell flat today and will face SC Magdeburg in the 3-4 placement match on the final day (throw-off at 14:30 local time).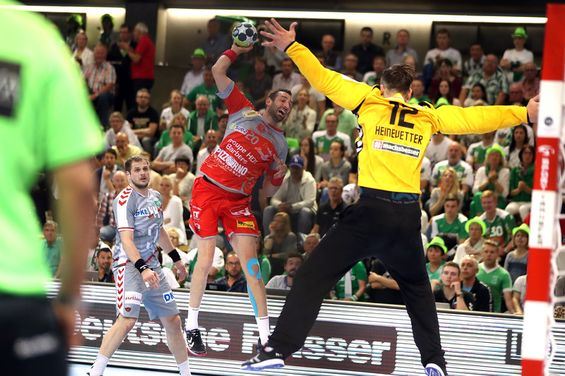 The first half was imprinted by Berlin's left handed aces, who scored 11 of Füchse's 17 goals.
They were topped by Danish right wing Hans Lindberg, who netted in seven of these eleven goals.
Saint-Raphael had problems in attack, and even did not profit from an early direct red card against Berlin's Icelandic left wing Bjarki Elisson after a foul against Miroslav Jurka.
Berlin were shortly shaken, but coped well with the sitaution. On the other hand, the French runners-up did not score for 10 minutes, and Berlin easily extended the margin from 9:6 to 13:6 thanks to an incredible performance from Lindberg.
Berlin managed to keep the seven-goal margin until the break, as Saint-Raphael had to adapt their defence after Dane Alexander Lynggaard received two suspensions in the first 25 minutes. And from the 40-minute mark onwards, their resistance was completely broken and they were merely a playing ball for the Foxes.
26:18 marked Lindberg's tenth goal, and the 30:20 in the 53rd minutes was the first double-figured gap, and in contrast to Göppingen before, who had to fight until the final whistle, Berlin could even save energy for the final by rotating their bench.
Post-match comments:
Hans Lindberg, right wing, Füchse Berlin: "I am happy with the performance of the team, as we played an incredible match today. It was important to have the experience of the two group matches against Saint-Raphael. During the break, we had in mind that a seven-goal lead means nothing in handball. We never felt safe and carried on putting pressure on them. So we kept them away and secured a win, which was clear in the end."
Alexander Lynggaard, line player, Saint-Raphael: "Our group matches against Füchse were completely different than today, as today they had a full squad. We let our goalkeepers down and did not help them at all. On the other hand, Silvio Heinevetter had a great game, while we stopped defending in the second half. It was not necessary to lose by eleven goals, but Füchse were superior in all departments."
.@FuechseBerlin's Silvio Heinevetter after beating @SRVHB and proceeding to the final #ehfcupfinals pic.twitter.com/emrUPzmQZr

— EHF Live (@EHF_Live) May 20, 2017
Author: Björn Pazen/ bc