Sole top scorer, Sesum elected MVP
The Men's EHF Cup Final between Nantes and Göppingen had a lot at stake – the final victory and the trophy, of course, but also the race for the EHF Cup best scorer.
In order to overtake Ferran Sole Sala, Marcel Schiller had to score eight. Unfortunately for him, and fortunately for the Spaniard, he only put the ball in the net seven times, allowing Sole Sala to be crowned top scorer with 70 goals scored from fourteen games.
"I'm very happy about it, when you see the list of the players I was competing with, it sure is a great honour," told the left-handed player.
His ten goals were decisive for Granollers to win the third place final this afternoon, but he wants to thank his fans first for the support.
"It means a lot to us that they travelled all the way from Spain to support us here. It isn't a surprise for us that they're amazing, but we have to be grateful, they sacrifice a lot to follow us," Sole Sala concluded.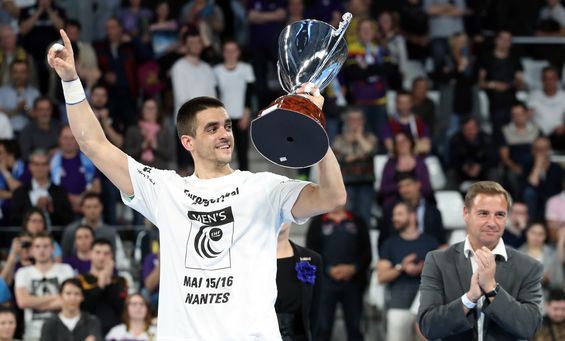 Another happy man this afternoon was Zarko Sesum. Not only did he win the EHF Cup trophy with his team of Frisch Auf Göppingen, he was also elected MVP of the event.
One goal yesterday against Chambéry, four today against Nantes, the 29-year-old Serbian centre-back was a key presence in his team at both ends of the court and his experience was precious.
"This has been an amazing weekend," he declared afterwards. "To win this trophy means a lot for the club, and to be elected MVP is for me the icing on the cake. I was a bit surprised as I could not pick anyone in our team who played better than anyone else, but I'll gladly take it."
Author: Kevin Domas / cor