Nantes and Göppingen meet again with a trophy at stake
For the third time in less than three months, Frisch Auf Göppingen and HBC Nantes are set to face each other. The spoils were shared with one win a piece in the group phase, there will only be one winner on Sunday evening in the EHF Cup final.
Men's EHF Cup Finals, final
Frisch Auf Göppingen vs HBC Nantes
Sunday 15 May, 17:30 hrs local time on ehfTV.com
To reach this point the French side had to battle until the last second to beat Granollers in the semi-final, while the Germans turned things around in spectacular fashion to beat Chambéry and the final is bound to be a close affair as well.
"The results in the group phase showed us that the two teams are even," confirms Göppingen coach Magnus Andersson.
"But we're playing better now than we were when we lost here in March, some players are now back from injury and we've definitely got our chances."
The addition of Kevynn Nyokas and Primoz Prost might be decisive in the gold conquest for the 2011 and 2012 EHF Cup winners.
The Slovenian goalkeeper thinks that his team are better than in 2013, when Frisch Auf last played in the event.
"We are more experienced as a team and as individual players. That does not make for an easy win though, we know Nantes will give 100% to win the trophy in front of their fans and we will have to be even better than that."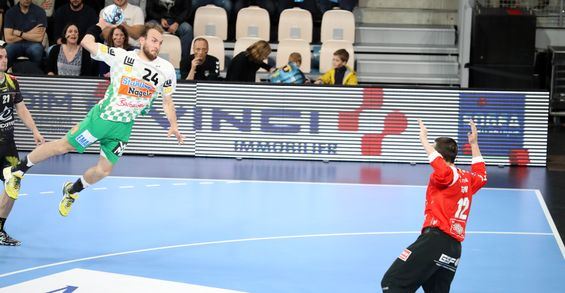 Nantes with plenty of room for improvement
And while Göppingen were, of course, delighted to turn things around against Chambéry, in Nantes there is room for progress.
Just like the Germans, the home team faced some difficulties in the first half of their semi-final before finally getting the better of Granollers.
"There were mistakes we made that we will not have the permission to do in the final," said Thierry Anti.
"There is a lot of room for progress, a lot of things that we can and must do better if we want to win the EHF Cup."
It will be an extra-special game for some Nantes players who will be leaving the club at the end of the season. Valero Rivera, Alberto Entrerrios are among those who will not wear the club's jersey next season.
"I don't want to think about it right now" said Rivera, the top scorer against Granollers with eight goals. "If I have to cry tomorrow, I want it to be tears of joy after victory."
Author: Kevin Domas / cor