Göppingen power through EHF Cup final to the trophy
At half-time of their semi-final on Saturday, many could not have believed Göppingen would win the EHF Cup. And yet, here they are, after beating hosts HBC Nantes 32:26 in the final.
"I wish I could say something else, but Göppingen totally deserve the trophy," admits Nantes captain Rock Feliho. "They showed everything required to win a European trophy while we didn't show any of it."
Men's EHF Cup Finals, final
Frisch Auf Göppingen vs HBC Nantes 32:26 (13:10)
The Göppingen players were in high spirits yesterday after the incredible turnaround and their victory against Chambéry. To be able to recover from such a bad start had given them a boost of confidence and a confident team is exactly what we saw on the court for 60 minutes.
The German team was defensively strong and, without counting in its ranks any superstar, has a lot of faith in the team's collective power and exploits any opponents' mistakes.
Only at one point with the score 3:2 did HBC Nantes lead on the scoreboard and that shows just how one-sided this game was.
The German defence did not give their hosts space to breathe while Tim Kneule and Marcel Schiller, who both ended best scorers of their teams with seven goals, were exploiting every opportunity on the other end.
Nantes, after coping with the rhythm for twenty minutes, broke down for the first time in the last ten minutes of the first half.
From 7:7, the score went to 12:8 in just four minutes, thanks to up-tempo goals and crucial saves by Primost Prost and the 13:10 half-time deficit was generous to Nantes.
The gap Göppingen could not create in the first half came in the second, using the very same ingredients. Their defence, once again, gave them the ammunition and Anton Halen was more than happy to fire them.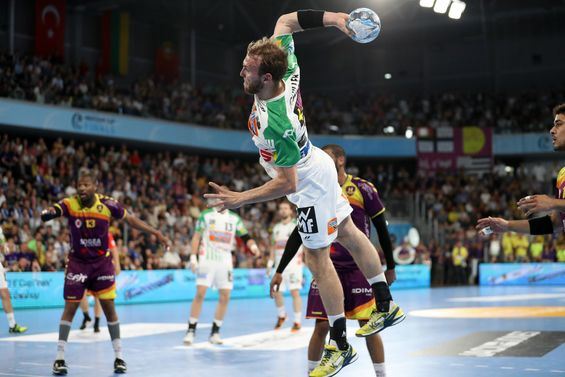 Two goals from the Swedish right-winger gave Göppingen a comfortable 17:11 lead and the game was all but decided.
No matter how hard Nicolas Claire or Valero Rivera tried there was always a Göppingen player to score in response.
Zarko Sesum and Adrian Pfahl proved to be decisive in the key moments of the game, able to keep the ball when needed but also to speed things up from time to time.
The advantage remained constant during the whole duration of the game and Göppingen finally won 32:26.
The final result was decided so early in the game that Nicolas Claire did not even feel disappointed.
"We played backwards for sixty minutes, we did everything we knew we had to avoid," the French centre-back said.
"It sometimes sounds like a cliché, but Göppingen were better than us and they definitely deserve their victory."
Adrian Pfahl was, of course, overwhelmed with the third EHF Cup victory for Göppingen, after 2011 and 2012.
"To win here against the home team is madness, but I think that the turning point of our weekend happened yesterday at half-time. We realised that we could not let our chance pass and that we had to end the weekend without regret."
Author: Kevin Domas / cor