Brihault: "EHF Cup has found its own identity"
After its first visit back in 2013, the EHF Cup Finals came back to Nantes this season and on reflection it can be deemed a success both in terms of on-court play and behind the scenes organisation.
EHF President Jean Brihault noticed that clear progress has been made since the first event three years ago and was quick to praise the organisation.
"The organisation is splendid, we're very happy about the good partnership we have with the club of HBC Nantes.
"The way we worked this year was a little bit different from three years ago. Back then, it was the first time the EHF Cup Finals were organised and everyone had to learn. Now, it is more of cooperation between the club, Nantes, and the EHF.
"They suggest things and feel more involved, and they have definitely made progress since the 2013 event," explained Brihault.
Off the court, Jean Brihault was also pleased with the brand new La Trocardière arena, where the event took place.
"This is the kind of venue we are aiming for in the future. Nice surroundings, functional and with ease of use. Beaulieu was nice, but it was turning old, while this new arena is the perfect kind of place to set up the EHF Cup Finals."
When asked whether this was enough for the event to come back to Nantes in the near future, he answered: "If an offer were to come from the city, or from any other city in Europe, we would look at it with interest."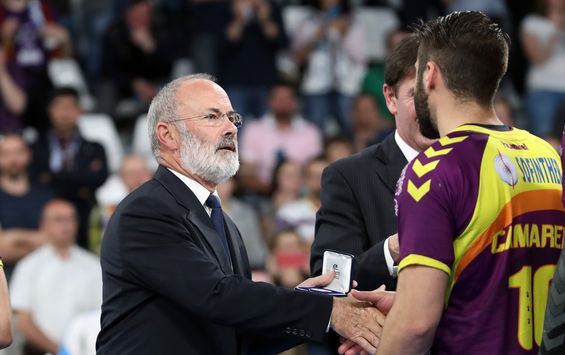 In fact, the EHF Cup system implemented in 2012/13 has been such a success that the Women's EHF Cup and Cup Winners' Cup will amalgamate into a single EHF Cup competition next season as well.
"It felt natural for us to start experimenting with men's handball, because the clubs are more evenly spread.
"The new competition has now found its own place on the handball landscape; it now has its own identity, its own place next to the VELUX EHF Champions League.
"Having seen its success, it now feels natural to apply the formula to the women's competition."
After taking into consideration the organisational aspects, one could not ignore what was happening in the matches themselves.
"Finals are rarely of a top technical level, but in terms of intensity and motivation I think the level has increased yearly.
"It seems like we have the EHF Cup almost on a par now with the Champions League, it is not a minor competition and we have the ambition to help it develop even further," concludes Brihault.
Author: Kevin Domas / cor