Turda chase first title in historic surroundings
AHC Potaissa Turda lost the Men's Challenge Cup Final last year, but the Romanian team are strong favourites to raise their first European trophy this weekend.

Turda won the home leg of the final against A.E.K. Athens 32:22 last Monday, and therefore defend an 11-goal lead when the teams meet again on Sunday in the Nikos Galis Olympic Indoor Hall, a venue used for basketball and other events at the 2014 Summer Games.

MEN'S CHALLENGE CUP FINAL, SECOND LEG

A.E.K. Athens (GRE) vs AHC Potaissa Turda (ROU)
Sunday 20 May, 19.00 hrs local time, live on ehfTV.com

For the second year in succession, Turda are in the final of the Men's Challenge Cup. But the contrast to last season could have been hardly any bigger for the Romanian side.

A year ago, they lost the first leg against Sporting CP by nine goals (37:28) and clearly missed out on the title. This time, they routed opponents A.E.K. Athens by 11 goals in the first leg to leave themselves every chance of winning the trophy.

Both teams have yet to win a European club competition. But while Turda are playing in their second final, Athens had not been beyond the quarter-finals of an EHF event until this season.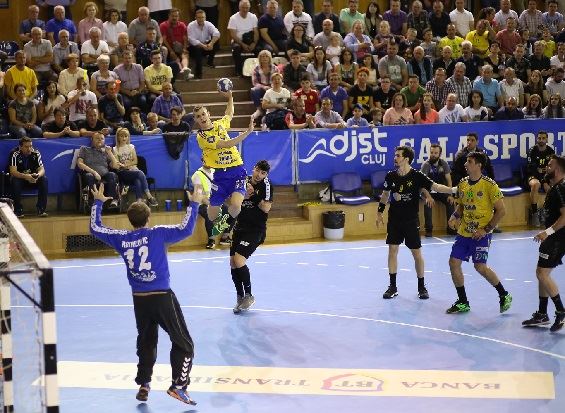 The 33:22 victory in front of 3,000 spectators in Cluj on Monday obviously puts Turda in a favourable position for the decisive match in the historic Olympic surroundings of the Greek capital.

A.E.K. head coach Nikos Grammatikos admits his team are in a difficult situation, but at the same time he is proud to be writing history.

"It is the first time a handball match is being played at the Nikos Galis Olympic Indoor Hall, and it is a really big honour for the A.E.K. handball club and for me personally," Grammatikos tells eurohandball.com. "And in front of our fans who will come to support us, we will obviously do our best."

The venue can accommodate 19,250 spectators, and expectations are that up to 10,000 fans might attend Sunday's match.

Despite the disappointing outcome of the first leg, Grammatikos promises the fans that his team will give their best.

"Potaissa Turda have already taken a big step towards winning the Challenge Cup," he says. "We have a really difficult job to do in the second match. But we are playing at home and in front of our fans, and that is why we are going to give everything to win."
Author: Peter Bruun / ew