Rocasa reach Women's Challenge Cup final after dramatic match
Through a free-throw goal after the buzzer, Rocasa Gran Canaria sent ruling champions HC Lokomotiva Zagreb out of the Women's Challenge Cup due to a higher number of away goals.
In the final, Rocasa will meet MKS Perla Lublin who defeated Ardesen GSK 36:20 in the return match at home, which was enough for an 11-goal aggregate win for the Polish side.
Thriller on Gran Canaria
Rocasa Gran Canaria are in the Women's Challenge Cup final for the second time in three years, but only after a free-throw by right back Seynabou Rodriguez after the buzzer.
As the first match ended 26:26, this 25:25 draw with defending champions HC Lokomotiva Zagreb was exactly enough for Rocasa after a dramatic game, in which both teams had five-goal leads along the way. After an early 4:2 lead for Rocasa, Lokomotiva dominated the first half and took a five-goal advantage.
Woman-to-woman defence against Lokomotiva playmaker Stela Posavec in combination with a stellar performance by Silvia Navarro in goal enabled the home team to reduce the difference to 13:10 at half time. Some seven minutes into the second half, the 2016 champions caught up at 14:14.
The Lokomotiva players may have been affected by an apparently serious knee injury for centre back Marina Glavan close to the middle of the second half. Rocasa seized the advantage, scoring six goals in a row to change a 17:16 deficit into a 22:17 lead.
Lokomotiva clawed back the lead before Rodriguez's free-throw goal put Rocasa through.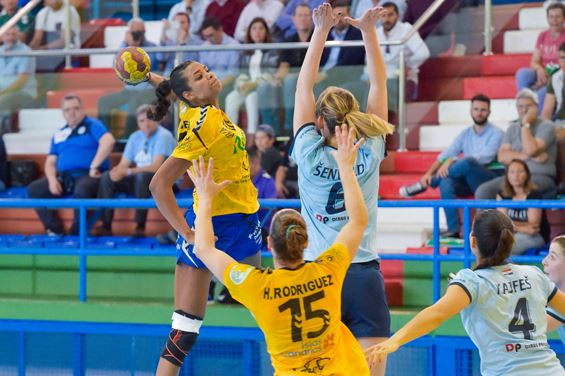 Lublin leave no doubt
Rocasa's opponents in the final will be MKS Perla Lublin.
The Polish team were down 28:23 after their away game against Ardesen GSK, but through a 36:20 win at home in the Globus Hall, Lublin removed any doubt of their ticket to the fina.
It did not take Lublin long to catch up with the five-goal deficit, and the Polish side was even leading by six goals a couple of times.
During the first 10 minutes of the second half, the score changed between four and five goals for Lublin. As the home team scored six goals in succession and went from 18:14 to 24:14, the matter was really decided, and Lublin could cruise to their big win.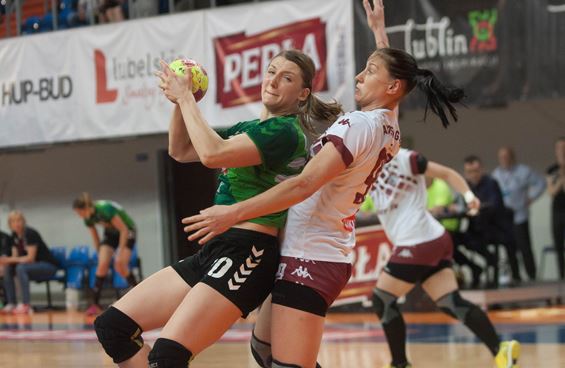 Author: Peter Bruun/jh