Defending Challenge Cup winners ready for Last 16
Rocasa Gran Canaria ACE still have a chance to win the Women's Challenge Cup, as they did last season.
The Spanish side were hosting Finnish HIFK for a double-header this weekend and the team from Helsinki did not cause Rocasa any problems.
Rocasa made it clear in the first match already, in which they won no less than 39:12. The winning digits for Rocasa became a considerably lower in the second match, but a 32:21 victory was still more than enough.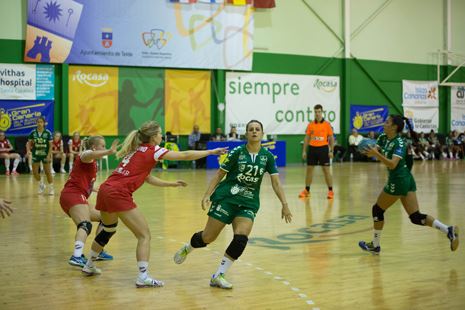 Just as expected following the first leg, Kram Start Elblag are ready for the Last 16. The Polish side demanded the first leg away match against UHC Müller Bau Stockerau 28:17. In the home match, Elblag did not leave their Austrian opponents any chance either with a final score of 33:20 for Elblag.

The 2014 winners H 65 Höörs HK are also in the next round. The Swedish team had a 31:25 victory with them from the first match, when they travelled to Spain to meet Prosetecnisa Bm Zuazo. With this lead, Höörs could easily afford a 21:20 defeat and still proceed to the Last 16.

LK Zug Handball had an easy weekend in English Gillingham, where the Swiss team met Olympia HC twice. The first match Saturday ended with a 45:17 win for Zug, who then cruised into the Last 16 with an even bigger win on Sunday, 40:7.

Last season, DHC Sokol Poruba reached the Last 16 and this weekend, the Czech side copied that achievement. The Ostrava-based team had an easy weekend in Tbilisi, Georgia, where they met the local team, Mamuli. DHC won the first leg 34:12 and the second with an even larger goal difference, 31:7.

Colegio de Gaia are in the Last 16 for the fourth year in a row. The Portuguese side had to catch up from a four-goal deficit after losing 25:21 in Spain against Helvetia BM Alcobendas, but this turned out to be no problem for Colegio, when the two teams met again in Portugal. Already at half-time, Colegio were leading by 10 goals with a score of 15:5 and the hosts also ended the match 10 goals ahead, with the scoreboard reading 29:19 at the final buzzer.
Author: Peter Bruun/tm