Sporting and Valur striving to take final step
Sporting CP from Portugal and Valur for Iceland are more or less close to the final of the Men's Challenge Cup after winning the first leg of their semi-finals clearly.
Sporting are closest after winning by five goals away against JMS Hurry-Up, while Valur are travelling to Romania to defence an eight goal lead against Potaissa Turday.
The winner of the tie between Sporting and JMS Hurry-Up will have the home right in the first match of the final after the draw on Friday determined the final's home and away matches.
Sporting CP (POR) vs JMS Hurry-Up (NED)
Saturday 29 April, 18:00 local time
In the Portuguese league, Sporting are chasing FC Porto in the play-off for the championship, and in the Challenge Cup, they are chasing a ticket for the final.
The final berth seems very near after Sporting won as clearly as 32:27 in the first match in the Netherlands.
So far, Sporting have won all their matches in the Challenge Cup this season, and if they can continue this – or at least avoid a defeat bigger than four goals – at home Saturday evening, they will be in the final.
JMS Hurry-Up reached the semi-finals of the Dutch championship play-off, and the semi-final may also be the end of the their Challenge Cup adventure this season.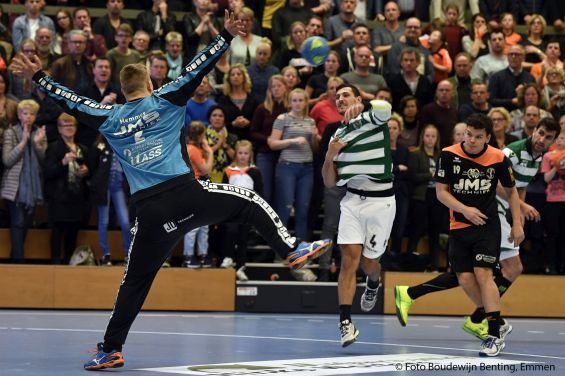 AHC Potaissa Turda (ROU) vs Valur (ISL)
Sunday 30 April, 18:00 local time
There is no doubt that Potaissa Turda will need an extraordinary performance, if their maiden voyage in Europe should not end in the semi-final.
The Romanian team are eight goals down after their 30:22 defeat in Iceland last Saturday, and they will probably need all the support they can get from the crowd in the Gheorghe Baritiu Sunday evening to catch up with this deficit.
Wednesday night, Valur qualified for the final of the Icelandic championship by defeating Fram no less than 27:15 in the second leg of the semi-final, so it will be in Icelandic team in top form and with plenty of self-confidence who arrive in Romania for the second leg.
Photo: Boudewijn Benting, Emmen
Author: EHF / br